Special Events & Skyballs
We are a Saturday night venue and want to ensure we have a top night every week so we always hire venues every Saturday night..exclusively for us…with a sprung wooden dance floor
There are a lot of dancers who cannot/do not want to travel to the West End/European congresses…so we bring a little bit of the West End and Congresses to you in the form of our international Djs Teachers and Workshops..and love the fact we get the West End dancers joining us
Our Skyball/special party nights are also a chance to have a theme and dress up accordingly..because it is a Saturday and it is a Party night….as well as a dance school night!!
Welcome to Salsatricity
Once a year we have the lessons and party in the park..and its all free
We are so much more than just a dance class or night club/party night
☆☆•*¨*•.¸ ☆☆¸¸.•*¨*•☆☆
♫ ♪ SALSATRICITY ♫ ♪
☆☆•*¨*•. ¸¸☆☆¸¸.•*¨*•☆☆
CHRISTMAS & NEW YEAR LINE UP!
🎄 December 23 red & gold party N20 9EZ Juiian Julian Duke
🎄 BOXING DAY DECEMBER 26 Steevo Ldj HUTTON HALL AL10 9AB
🎄 DECEMBER 30 Julian Duke N20 9EZ
🎄 DECEMBER 31 NYE HOLLYWELL CENTRE  WATFORD just 12 mins from junction 5 M1 WD18 9QD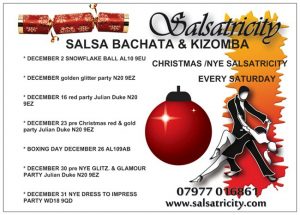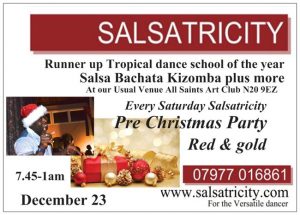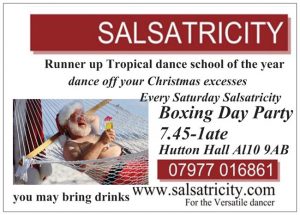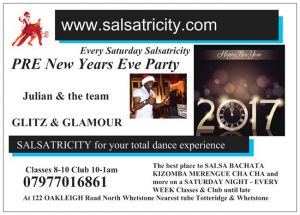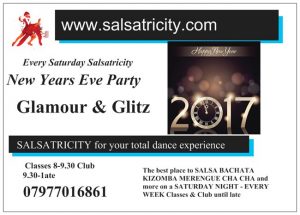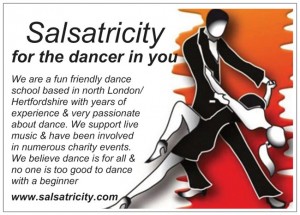 www.salsatricity.com
more than just a party night ~but that as well
and always lots of sunshine plus a line up that often looks like a mini congress!!
✰✰✰✰✰✰✰✰✰✰✰✰✰✰✰✰✰✰✰✰✰✰✰✰✰✰
SKYBALLS/SPECIAL PARTY NIGHTS PLANNED
✰✰✰✰✰✰✰✰✰✰✰✰✰✰✰✰✰✰✰✰✰✰✰✰✰✰
SUNDAY SEPTEMBER 3rd 2017
"Delightful! Perhaps the most effective use of park-space in Greater London. Its quite small but packs a huge punch as demonstrated by the vast number of locals who populate its every nook and cranny on those lazy Summer afternoons. I love it!"
LESSON TIMETABLE TBC
Classes @20/25 mins
Plus Freestyle
12pm Start
12-1.00 Regina & team Latin inspired warmups
1.15 Merengue
2pm Tango & demo
2.45 pm Kizomba
3.30pm Bachata
4.15 Salsa
Plus there will be tasters and beginner's classes
"This is my absolutely favorite park in London. Mostly because I live right by it so its the one I go to the most!
It has a large field type area, with a few benches, and a few trees, but the highlight is a fallen tree, that is a great place to sit on/lean against and read a book.
It also has crazy golf, and large pond complete with permanent little boys with boats, and an adventure playground.
It is deceptively massive, and even has a house, that is now very run down, that I am reliably informed used to James I hunting lodge!"
for folk who love to dance SALSA KIZOMBA BACHATA
**SALSA**BACHATA**KIZOMBA **
SO MUCH MORE THAN JUST A NIGHT CLUB/PARTY NIGHT
Where
* Cuban meets cross body
* Salsa meets Kizomba Bachata plus more
* London dancers meet those from the South East and beyond
FUN VIBRANT ENTHUSIASTIC PROFESSIONAL & PASSIONATE ABOUT DANCE
but always lots of sunshine and a line up that looks like a mini congress!! x
* DJs in charge of Kizomba Kalmmmmm
* Salsa in charge of Salsa Storm
✰✰SALSA ✰✰ KIZOMBA ✰✰ BACHATA ✰✰SALSATRICITY✰✰
FUN VIBRANT ENTHUSIASTIC PROFESSIONAL & PASSIONATE ABOUT DANCE
* DJs in charge of Kizomba Kalmmmmm
* Salsa Dj charge of Salsa Storm
* PARTY til 1am in both halls. First of month 3 halls as we provide a Bachata room and DJ