Workshops
We have no Current workshops organised but we do have
FREEE DANCING IN THE PARK
SUNDAY SEPTEMBER 4th lesson timing TBC. FREE….all you need is FREE TIME!! xx lessons & dancing in the park…lessons and freestyle …in a walled garden…even bigger and better than last year xxxx
SEPTEMBER 4 2016
Broomfield Lane, London N13 4HE
Tube:
Arnos Grove Station (1.3 km)
Bounds Green Station (1.3 km)
Nearby stations:
Palmers Green Station (0.3 km)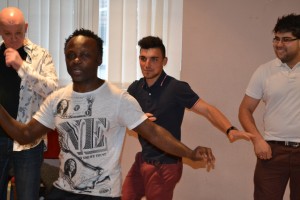 ..enhance your dance styling and increase your knowledge of dance…at SALSATRICITY
Venue: USUALLY ALL SAINTS ART CLUB
Time:
£15 for 2 hours
Workshop Application Form
Name of Workshop:
time
PRICE £15
ALL SAINTS N20 9EZ
Client details:
EXPERIENCE:
NAME :…
ADDRESS
……………………………………………………………………
TEL: E-MAIL:
ANY MEDICAL PROBLEMS/ALLERGIES?: YES (If yes please indicate briefly below)……………………………………………
Payment details:
£15 both to be paid in full by xxx Applicants will be accepted on a first come, first paid basis.
No-Shows:
Anyone who does not attend disrupts the balance of the class for the other participants. Please let us know before 2pm of the previous day if you are unable to attend.
Refund Policy:
In the unlikely event SALSATRICITY cancels the course we will refund your payment.
Health and Safety:
Please also be aware that dance is a physical activity and people should understand that they participate at their own risk. SALSATRICITY cannot be held accountable for any injuries or illness that may arise from participating in classes or class related activities. If in doubt about your physical health, please consult a qualified doctor.
Should any problems occur during the course, participants shall immediately stop and inform the instructors. Appropriate clothing and footwear is essential. We may ask for any inappropriate heels/jewellery/items of clothing to be removed during the course in the interest of safety.
Filming and Photography:
These terms and conditions include your agreement to any filming/ photographing of the course and you hereby give all consents necessary for the reproduction, exhibition and use of the material recorded. Salsatricity are entitled to edit any footage/photography. However we will consider any personal request and at all times seek to show SALSATRICITY and our clients in the best possible light.
Dancing Etiquette:
Dancing can be energetic and, for the benefit of all dancers, we recommend you obtain wet wipes or a flannel/towel to wipe and dry yourself with throughout the lesson. Using wet wipes or a flannel/towel is perfectly acceptable, as dancing can be very physical and can cause even the fittest person to sweat. Extra tops may be appropriate.
………………………………………………………………………………………
Your Signature
Payments only by cheques made payable to: HEATHER OAKLEY
Send to: SALSATRICITY, 34 Bedford Avenue
BARNET HERTS EN5 2EP